Affäre Bela B..
Edith Steyer – Altsaxophon, Bb-Klarinette
Martin Klenk – Violoncello
Reinhard Lippert – Akkordeon, Viola
Ernst Ulrich Deuker – Kontrabassklarinette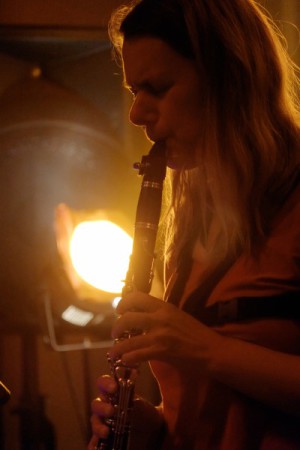 This chamber music jazz quartet revives, honours, deconstructs and tranforms the music of the hungarian composer Bela Bartok. Free improvisations intervene in newly arranged compositions of Bartok and of the ensemble. Written for 2 wood and 2 string instruments, the exceptional orchestration consisting of contrabass – clarinet, Bb – clarinet/alto saxophone, viola/accordeon and violoncello gives way to a variety of very narrative, but also sound and noise oriented interactions.
Live aus dem Klangwert, Schwerin (Mai, 2016):
Musikvideo: Adobe Flash Player (Version 9 oder höher) wird benötigt um dieses Musikvideo abzuspielen. Die aktuellste Version steht hier zum herunterladen bereit. Außerdem muss JavaScript in Ihrem Browser aktiviert sein.
Musikvideo: Adobe Flash Player (Version 9 oder höher) wird benötigt um dieses Musikvideo abzuspielen. Die aktuellste Version steht hier zum herunterladen bereit. Außerdem muss JavaScript in Ihrem Browser aktiviert sein.
Musikvideo: Adobe Flash Player (Version 9 oder höher) wird benötigt um dieses Musikvideo abzuspielen. Die aktuellste Version steht hier zum herunterladen bereit. Außerdem muss JavaScript in Ihrem Browser aktiviert sein.
Musikvideo: Adobe Flash Player (Version 9 oder höher) wird benötigt um dieses Musikvideo abzuspielen. Die aktuellste Version steht hier zum herunterladen bereit. Außerdem muss JavaScript in Ihrem Browser aktiviert sein.
Musikvideo: Adobe Flash Player (Version 9 oder höher) wird benötigt um dieses Musikvideo abzuspielen. Die aktuellste Version steht hier zum herunterladen bereit. Außerdem muss JavaScript in Ihrem Browser aktiviert sein.
Musikvideo: Adobe Flash Player (Version 9 oder höher) wird benötigt um dieses Musikvideo abzuspielen. Die aktuellste Version steht hier zum herunterladen bereit. Außerdem muss JavaScript in Ihrem Browser aktiviert sein.
In dem kammermusikalischen Jazz Quartett werden andere Saiten aufgezogen: denn die Musik von Bela B. lässt sowohl die Aero- als auch Chordophone schwingen und deren Körper dahinter klingen und vibrieren. Meist volksmusikalisch und dissonant, immer rhythmisch und melodiös, clashen die Akkorde- im (Akkorde)-on aufeinander und verbandeln sich mit den Stimmen und Stimmungen der Klarinettenfamilie. Ob Kontrabassklarinette oder Bb-Klarinette, die zylindrischen Rohre hauchen, röcheln und umkreisen in Abwechslung mit dem Saxophon und im Einklang mit Bratsche, Cello oder Akkordeon osteuropäische 7/8 Tänze, Eigenkompositionen und freie Improvisationen.
Anlässlich des 70. Todestages von Bela Bartok hat sich auf Initiative Ernst Deukers das 4-köpfige Ensemble mit ihren 6 Instrumenten zusammengefunden, um die Musik des ungarischen Komponisten und Volksliedsammlers Bela Bartok zu ehren, neu zu beleben, dekonstruieren und transformieren.
Ernst Ulrich Deuker (born July 13, 1954 in Trier, Germany) is a bass player and contrabass clarinet player. He became known with the band Ideal. In 1979 was the first meeting of the Neue Deutsche Welle formation Ideal. Tours and festivals followed include (Montreux Jazz Festival and Roskilde Festival 1982) as well as various television appearances. Since the early 2000s he worked closely as a contrabass-clarinetist with jazz musicians. 2004 Deuker was also frontman, singer, guitarist and contrabass clarinetist of the avant-pop project "EU COMMISSION (Album Night Songs, at Below Recordings). Since 2009 he is playing in the Deep Down Clarinet Duo with Theo Jörgensmann.
Edith Steyer was born in 1968 in Munich. After studying anthropology, she decided to become a saxophone and clarinet player and finished her degree at the Bruckner-Konservatorium in Linz, Austria. Since then she has been working professionally as a jazz musician and in the field of improvised music. She recieved support and grants for CD productions with various ensembles from the GEDOK, the Berliner Senat (SenBildJugWiss) and as a member of "The Composers Orchestra Berlin" from the Initiative für Neue Musik. She worked at the Staatstheater Cottbus, leading a saxophone quartet. She has been on tour in many places throughout europe and in the US and played with outstanding musicians such as Michael Griener, Jan Roder, Andreas Willers, James Falzone, John Niekrasz, Adam Pultz-Melbye, Kathrin Lemke, Johannes Schleiermacher, Yorgos Dimitriadis, Joel Grip, Tobias Delius, Clayton Thomas, Susanna Hood, Marialuisa Capurso, Jean-Marc Foussat, Luiz Rocha etc.

Martin Klenk studied classical violoncello at the Hochschule der Künste Berlin. After his graduation he also became interested in improvisation and different kinds of world music. The variety of his creative output spans a bow from Alte Musik to contemporary free improvisation. Moreover he worked many years with the italian singer Eva Spagna and her band "…è la luna" and was a co- founder of the "Composers Orchestra Berlin". He has worked with theaters and theatre goups and toured many european countries.
Reinhard Lippert is a composer and poet. He is born in Leipzig, Germany in 1951. He studied viola and took masterclasses for compostion in Berlin. 1973-92 he worked as 2nd solo violonist in the Philharmony Schwerin, East Germany.
He has been improvising on following instruments: piano, viola, swedish Brunby-fiddle, accordeon, electronium, organ and voice.
2002 he composed the "New H2O-music for 3 dancers, mobile fountain and 5 musicians".
2016 he played live church organ to accompany the Fritz Lang movies "Metropolis" and "The Nibelungen".
He is a reciter of dadaistic texts and performed "Die Ursonate" by Kurt Schwitters. As a member of the "Hugo Ball Projekt", he played with the NDR-Bigband, Hamburg.