The Bertch Quartet.
"The Bertch Quartet is an expressive ensemble, that creates musical ideas out of sound particles and noises and makes listening a real pleasure." (Theo Jörgensmann, liner notes) 
"Das sparsame Gitarrenspiel von Zwerver in "The possibility", das melodiöse Schlagzeugspiel von Hadow in "Him and her – hin und her" und der kräftige Bass von Van der Weide in "Bertch" sorgen mit der weichen Klarinette und dem vollen Altsaxophon der Deutschen für eine ganze Anzahl Perlen." (Herman te Loo, Jazzflits; Übersetzung: E. Steyer)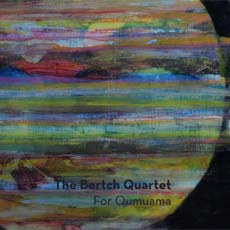 Edith Steyer – alto saxophone, clarinet
Hank Zwerver – guitar
Raoul van der Weide – bass
George Hadow – drums
artwork by Scott Weiner
Our new CD is out:
https://www.creativesourcesrec.com/catalog/catalog_469.html             
The Bertch Quartet is an improvising Berlin-Dutch ensemble,that takes pleasure in dynamic interplay as well as in the exploration and combining of instrument-specific sounds. It sways between narratives and noise. Experimental sound events and melodic, Jimmy Giuffre-like paraphrases are rotating and create a colourful atmosphere, that is accompanied by tension and release.